Sacred Vessel Replating (Antique Chalice Restoration) Services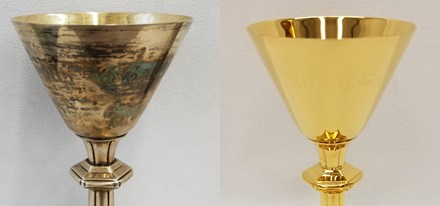 Stemper's has a long history of providing superior church appointments and sacred vessel restoration services. We restore hundreds of valuable church supplies every year and have built a reputation for exceptional quality and value.
Our sacred vessel replating artisans use only the finest materials of 24 karat gold and sterling silver. Your sacred vessels are handled with the care they deserve by experienced ecclesiastical craftsmen.
Sacred vessels are traditionally made of three different base materials: sterling silver, nickel silver or brass. The original finish of these items was 24-karat gold or sterling silver which is applied (plated) over the base material. We have extensive restoration, replating and refinishing experience with brass, bronze and silver. Stemper's sacred vessel replating service takes these same quality materials and electroplates your vessels; then we polish them to perfection.
Replacement Communion Chalices
If your antique chalice is beyond repair, shop T.H. Stemper for a replacement chalice made from:
For a free quote, send pictures using the contact form on this page.