Shop Catholic Chalice Sets and Patens Online
Jesus Christ shared wine with his apostles at the Last Supper from a common cup. Ever since, we've used chalices during the Sacrament of the Eucharist to share in the Body and the Blood. These sacred vessels are used by a multitude of Christian denominations to serve sacramental wine as a celebration of Communion. T. H. Stemper offers a wide array of beautiful chalices and paten sets in brass, stainless steel, sterling silver and gold-plated varieties suitable for churches of any budget and size.
Chalices are different than regular drinking cups and are designed after the Holy Chalice to reflect the divine substances they carry. Some chalices are more ornate than others, Only water, wine, and some of the Communion Host are allowed in the chalice cup.
Communion sets may include:
Chalice – a cup for holding wine
Paten – a plate for holding bread
Ciborium – a covered cup for holding the Eucharist
Our incredible selection of traditional Eucharistic vessels includes plain or richly decorated, hand-chased designs. T. H. Stemper also offers the most complete line of communion chalices, also known as common cup chalices, and matching bowl patens for Eucharistic ministers.
Types of Materials for Communion Chalices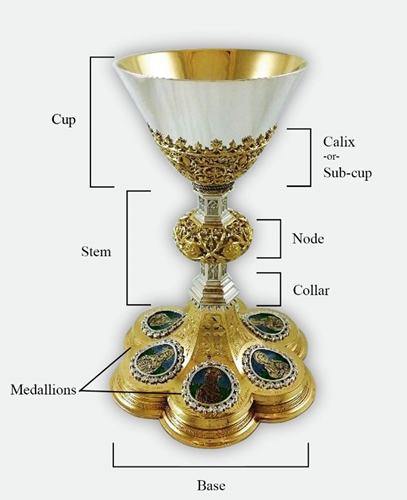 | | |
| --- | --- |
| Cup | The cup is the topmost part of the chalice, the wine is held here. |
| Calix | This is a decorative section applied to the outside of the cup where it meets the stem. |
| Stem | The stem functions as a handle allowing the chalice to be picked up, it may contain nodes. |
| Node | A decorative addition, a node is an expanded section that jets out from the stem. |
| Medallions | Circular decorative additions that may depict an image or hold a valued stone. |
| Collar | This section connects the stem to the base. |
| Base | The base is a flat surface at the bottom of the chalice that keeps it from falling over when placed on a surface. |
Browse T.H. Stemper for chalices – you can choose from:
This extensive church chalice and paten variety is offered to meet every liturgical environment and budget range imaginable.
Shop church chalices and paten vessels or our complete line of sacred communion vessels.

Celebrate the Eucharist with New Chalices and Communion Ware from T.H. Stemper
Ever since Jesus told his Apostles to "Do this in memory of me", Christians and Roman Catholics have made the Eucharist central to the liturgy. Holding the blood of Christ, Chalices are the centerpiece of each Eucharistic celebration and mass. For this reason, Catholic communion chalices are traditionally made from a precious metal regarded as noble in whatever region the chalice is used.
Gifts for Newly Ordained Priests
It's traditional for new Roman Catholic priests to receive their own chalice from family members. If you know someone who is finishing up their year of seminary training, consider giving them a portable travel chalice set.