Subcategories
Remember to use the coupon code ANNUALS to get free shipping on orders for annuals totaling $50 or more.
Seasonal Church Publications for Sale at T.H. Stemper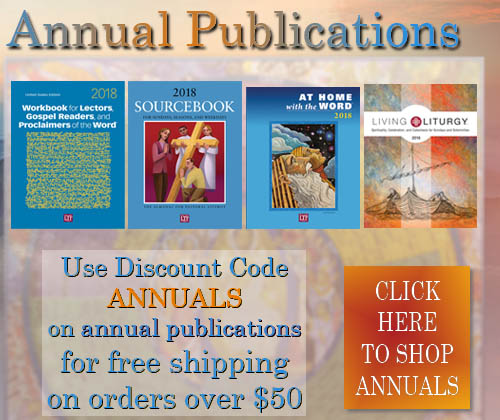 2021 Annual Books, Guides, Reference Materials, and Calendars
Spreading the good news of the gospel is among the greatest missions for Christians to undertake. T.H. Stemper provides churches and parishioners with up-to-date annual literature, allowing them to keep up with designated readings and liturgy. We sell a wide range of liturgical guides and workbooks for children, teens, adults, teachers and families so all are free to participate in masses and ceremonies.
Liturgical Workbooks for Lectors, Teachers, Teens and Children
Religious workbooks sold by T.H. Stemper are invaluable resources for all ministers engaged in mass preparation and study. From contemporary daily prayer books for children to missals and lector handbooks, we have the essential resources to help deepen connections of lectors, instructors and children with the Word of the Lord. By employing our seasonal church publications and reference materials to support biblical study and preparation, you'll gain access to features like:
Gospel citations and commentary
In-text notes for speech emphasis
Pronunciation guides in margins
Clip art drawn from Gospel message
Handy Mass Record Books and Liturgical Calendars
"In their hearts humans plan their course, but the Lord establishes their steps"-Proverbs 16:9

T.H. Stemper offers a variety of planners, record books, and calendars to properly manage readings, celebrations, and to schedule plans for the year. From personal daily planners to desk blotter-style calendars and colorful wall poster calendars, you'll find all you need to keep track of your liturgical days at T.H. Stemper. Some of our options include:
Liturgical Desk Calendars
Ecumenical Daily Appointment Planners
Year of Grace Laminated Liturgical Calendar Poster
Training Guides for Lectors, Cantors, Ushers and Music Ministers
For a parish to fully accomplish its mission, a team of parishioners need to serve their roles in focused unison. We provide religious training guides to give members the ability involve themselves in the service and fulfill their callings to God.
These pastoral and easy to understand guides provide the framework for both newcomers and veterans of ministry to the Lord.
In these guides, you'll find features like:
Histories of the ministry
Liturgical Catechesis describing each minister's role
Questions for discussion and personal reflection