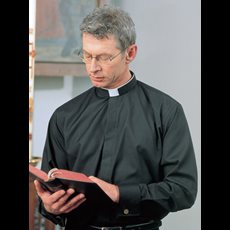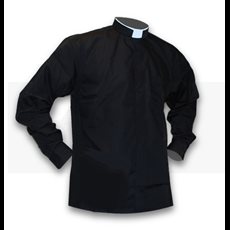 Tonsure Clergy Shirts Formal
Stadelmaier Torino clergy shirts are crafted with the highest quality materials and workmanship. These clergy vestments are reserved for more formal occasions and include a comfortable white tab in an attached Roman priest collar. Torino clergy shirts are outfitted with French cuffs which may be appropriately accessorized with religious cufflinks. These high quality clergy vestments should be hung on our traditional or curved hangers for religious apparel. When traveling, keep your priest vestments safe, dry, clean and wrinkle-free by transporting your clergy shirts and other religious vestments in our specialty garment bags. These unique garment bags are uniquely designed to protect and hold a wide range of priest vestments and accessories including chasubles, cinctures, priest stoles and albs.
Don't jeopardize the quality of your important religious vestments; treat them with the respect they deserve by storing and transporting them with the utmost care. Protect your expensive clergy vestments and get the most wear out of them before replacement if necessary. As always, Stempers Church Supplies offers the biggest selection on Catholic Church vestments, religious gifts, Christian jewelry and new and used church supplies.