Build Your Own Chasuble
Chasuble Designs You Can Customize to Make it Uniquely Yours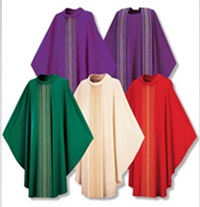 Customize your chasuble today with high tech customization design technology from Slabbinck. As your premier source for Christian and Catholic vestments, T.H. Stemper Church Supplies wants to ensure you get exactly what you want when you order with us. Whether you need vestments for priests, clergy, deacons, or other church staff, our chasuble specialists are here to cater to all your church supply needs.
From a black chasuble to a rose chasuble, we have all the colors you could ever want. Chasuble colors include:
Green
Purple
Red
White
Rose
Black
From the heaviest fabric to feather-light fabric, there's a chasuble for everyone at Stemper Church Supplies.
Create Your Slabbinck Chasuble
To begin the chasuble design process, simply use the convenient "Build Your Own Chasuble" tool developed by Slabbinck (Bruges, Belgium), the world's premier manufacturer of fine liturgical vestments. This program enables you to select various styles, fabrics, chasuble patterns, and adornments to customize your chasuble just the way you want it. Select a Roman chasuble, conical chasuble and virtually any other chasuble style which exists.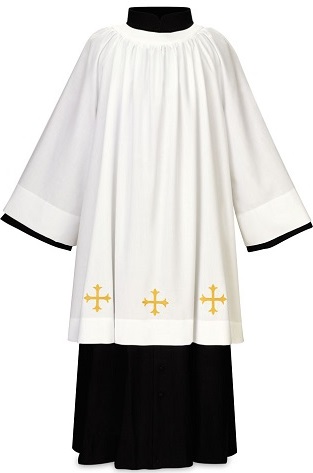 After you've finished designing your custom chasuble, simply print your design and request a quote directly. You may also elect to email your image or generate a PDF file of your chasuble creation.
Church Apparel and Vestments
Once you've created a chasuble, finish your outfit by shopping at Stemper online. We have:
In addition to priest vestments, we have clothing for acolytes and deacons. Order now so all your clergy can match during weekly services and special church occasions. Call our local Milwaukee church supply store at 414-744-3610 or 1-800-686-3610.
Shop our full selection of religious gifts and church supplies online now or contact T. H. Stemper Co. for more information.