Shop Communion Bread Online
The sacrament of the Eucharist is sacred and a blessed event which should be honored with quality altar breads. Our line of Holy Communion bread is available in white or wheat varieties. Each host is perfectly baked, shaped and smoothed for crumble-free handling and easy consumption breakdown. The communion bread we provide is available in a variety of precision embossed designs, as well as a variety of thicknesses.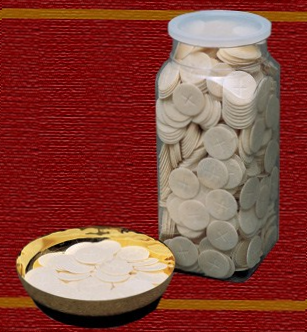 Communion hosts include:
White
Whole wheat
Low gluten
Gluten free
T. H. Stemper Co. offers the most competitive pricing, the widest selection and the highest quality communion bread to ensure we remain your first choice for the church supplies and religious goods you need. Don't compromise the sacred sacrament of communion with cheap, brittle and burnt altar bread. Get the best communion bread at the best value right here from our incredible line of church supplies.
Additional Communion Supplies for Sale
There is more to the celebration of the Eucharist than consuming communion hosts. T.H. Stemper carries all the communion ware you need. The sacred vessels we carried include bowls, cups, patens, and more. Don't forget to browse our wide selection of ciboria and chalices for Catholic communion!