Church Pulpits and Lecterns for Sale Online by T.H. Stemper
Spreading the good news of the Gospel is essential to the mission of every church. As such, lecterns are some of the most important pieces of furniture in any parish. The styles of lecterns and pulpits available to churches are nearly as assorted as the individuals who stand behind them as lectors. T.H. Stemper offers a similarly wide selection of pulpits of varying sizes, shapes, finishes and styles.
Lectern Style Options available
All of our pulpits and lecterns come with several finish options, from cherry or walnut stains to polished or satin brass or bronze. Classically ornate styles with pedestal tops will add old world elegance to your church while modern styles lend a beautiful modesty to the sanctuary.
Stemper will supply several attractive lamp styles for attachment to nearly all of our lectern models.
Lamp Size and Décor Options
1180 - 6" x 16" Brass Lectern Lamp
1179 - 7" x 14" Brass Lectern Lamp
1178 - 7" x 12" Brass Lectern Lamp

Additionally, we offer two options of brass cross adornments for our pulpits: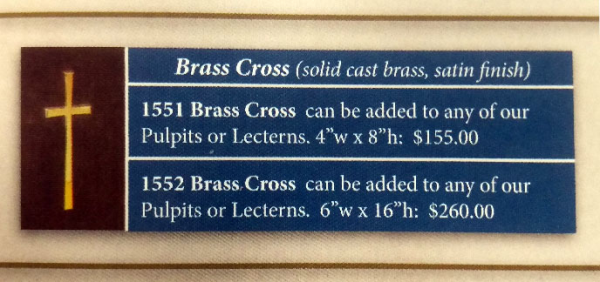 Order Church Lecterns and browse a variety of religious furniture T.H. Stemper online today!