Subcategories
Shop Church Altar Candles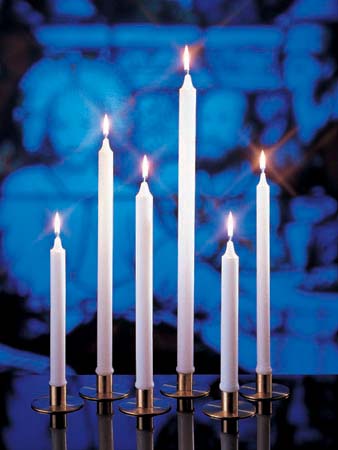 Altar candles are a beautiful accent for any Christian church. Christian churches use candles in worship for decoration and ambiance. Altar candles symbolize the light of God. The altar candles you choose will convey the spirit of your congregation.
T. H. Stemper Co. recognizes the importance of church altar candles in reflecting the atmosphere of each individual church congregation, as well as certain religious holidays or events. With our wide variety of altar candles, you will always find the perfect decorative candle to compliment your church environment.
Our superior selection includes 100% beeswax altar candles and Stearine candles, as well as white and purple candles to signify those special religious occasions. Fire up the Lord's love in your church while adding beauty and properly signifying different Christian holidays or happenings.
Buy Altar Candles Wholesale from Stempers
Altar candles are used every Sunday during mass and on holy days of obligation. Rather than constantly reordering, buy your altar candles in bulk. T.H. Stemper Co. offers many church candles at wholesale prices when purchased in large quantities. Contact us today to learn more about wholesale pricing.
Altar Candlesticks/Candelabra in Every Finish
Beautiful altar candlesticks bring out the character of your new altar candles. Our selection of religious accessories includes altar candlestick holders, available in bronze and silver finishes. Shop our entire selection of candelabra.
Shop Altar Candles above or shop our complete selection of church candles for sale online with religious candles for the home.