Nativity Sets for Outdoor Church Yard Use
Crèche Scenes withstand the Elements
First created by Saint Francis of Assisi, nativity scenes have been a popular Christmas tradition for hundreds of years. Nativity sets are a wonderful reminder of what the holiday is all about. For some, they are the highlight of the Christmas season. This year, don't set up the same old plastic figures you've been using for years. Give your congregation a real present with an intricate, huge nativity set from T.H. Stemper.
Made out of fiberglass resin and coated in durable, exterior paint, our selection of large size, outdoor nativity scenes is sure to please. All sets include the religious statuary you need for an impressive crèche:
The Holy Family: Jesus, Mary, and Joseph
Three Wise Men, Kings, or Magi: Caspar, Balthasar, and Melchior
An angel
A shepherd
Several animals like a sheep, donkey, and ox
Life Size or Half Size, Big Nativity Scenes Get Noticed!
Our selection includes nativity sets with figurines ranging from just over 2.5' tall up to an astonishing, life size 5'. Well painted and eye-catching, these figures are the perfect addition to any outdoor space. Your congregation, especially the children, will love having such large figures in this year's Christmas nativity scene.
Figure sizes:
Decorate the rest of your church with seasonal Advent and Christmas supplies from T.H. Stemper. We have Advent wreaths and candle sets for lighting up your church during the holiday season.
Manger Scenes Safe for Outdoor Use and Indoor Storage
Expertly painted and carefully posed, these nativity figures are works of art. Traditional color schemes are used throughout, guaranteeing your figures never go out of style or need to be repainted. The durable fiberglass resin is long-lasting, so you can rest easy when the figures are moved to storage before next Advent.
The Infant Jesus is removable from the manger on some sets, letting you set up the crèche during Advent and add the Messiah on Christmas. The Magi figures can then be added on Epiphany so you have a complete scene.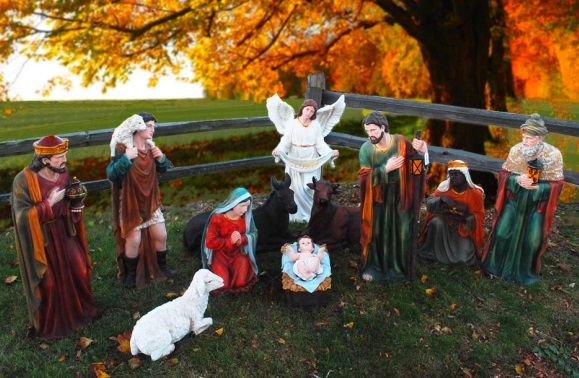 Static Nativities Advantages over Living Scenes
Living nativities are fraught with difficulties. You need at least 8 adults to effectively pull off the tableau vivant. You'll have to get costumes and props for each person. The weather can leave your volunteers in the cold and snow. And working with animals is always unpredictable. A static scene is safer for your parishioners and more reliable!
Nativity Scenes Look Great in Church Yards or Your Home's Front Lawn
Designed for use outdoors by religious institutions, our giant nativity sets are also look great outside private homes. Make your front yard stand out this Christmas season with an impressive, giant nativity.
Prepare for the rest of the year with seasonal church supplies from T.H. Stemper. We have everything from weekly bulletin stationary to pews and statuaries. We also provide restoration services to make antique church appointments as good as new. Save by shopping from our consignment collection!
Very limited quantities of each set are available. Do not hesitate to order your nativity scene today before they're all gone!