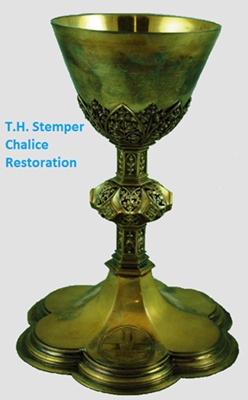 Shop Used Chalices and Patens for Sale Online
Our online church supply store offers a huge selection of quality, affordable used communion chalices and patens. These used church chalices and chalice and paten sets come in a wide variety of sizes, styles and materials to suit your specific needs. You may buy these used religious vessels as is or you can receive our sacred vessel restoration services beforehand. Please be aware these are used church items and they often show some signs of wear. In certain cases the camera is unable to pick up every sign of wear. We do not misrepresent our used church goods, so please view the images carefully.
For questions, concerns, pricing details or availability information please call or contact our used church goods department directly and one of our knowledgeable staff members will be happy to assist you. For the best selection in quality, used communionware, shop T. H. Stempers online church supply store.
Be sure to check back often for newly listed products!
Shop all used church chalices and chalice and paten sets now or shop our complete selection of used church goods for sale online.