Church Supplies and Religious Goods Consignment Center
Buy or Sell Lightly Used Church Furniture and Décor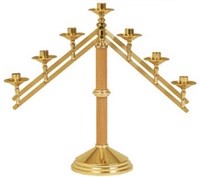 Stempers SHOP CONSIGNMENT NOW!Religious Products and Church Supplies Consignment Center assists churches in locating furniture items and décor styles that are no longer manufactured. If you are remodeling, expanding, or consolidating your worship space, consider our consignment services for buying and selling supplies. We offer an ever-changing inventory of used church furnishing and religious products, including church furniture, pews, kneelers, metalware, bells, statues and candles.
Our church consignment professionals help establish realistic, fair prices for both buyers and sellers.
Partial List of Available
Used Church Supplies

Partial List of Sought
Used Church Supplies

Candelabras (3, 5 and 7 lites)
Brass Candlesticks (12" - 42")
Baptismal Fonts
Chalices
Confessional Kneelers (Double and Single)
Nativity Set (Various Sizes)
Vigil Light Stands
Religious Statues
Sacred Heart 3' to 6'
St. Joseph
St. Peter
St. Paul
Madonna & Child
Our Lady of Grace
Pieta
Tabernacles

Antique Crucifix
Candlesticks (brass and marble design w/spires)
Classroom Crucifixes
Mosaic Stations
Oil Paintings (2' to 6')
Ornate Censer and Boat Sets
Outdoor Statue and Stations
Processional Cross (the older the better)
Pews (6' to 10')
Votive Racks/Stands (25 lite to 50 lite)
Religious Statues
Angels
St. Francis of Assisi (any size)
St. Ignatius
St. John the Evangelist
St. Patrick
St. Nicholas
Holy Family w/ Christ as a Young Boy
Consigned Church Supplies Help Congregations Save Money
Looking for something specific for your worship space? Contact T.H. Stemper to learn our full list of consigned church goods. We'll help you find low cost, lightly used furniture and décor.
Helping Sellers with Consignment
2/3 of all sales generated in our Religious Products and Church Supplies Consignment Center go back to the consignee (seller). We help sellers earn money, buyers save money and make sure religious products are back in proper use. Our consignment center is one of the fastest growing areas of our business. We look forward to opening up the second floor soon!