Candlelight Vigil Mass Candles Available in Bulk and as Complete Sets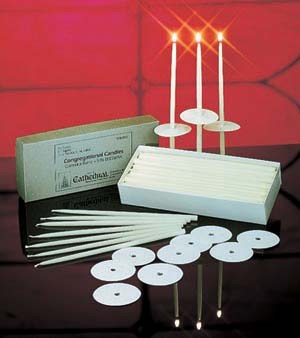 Church congregational candles cast a soft glow, give warmth and beauty, and reflect the light of the Lord in your church community. T. H. Stemper Co. supplies the best variety of congregational candles.
From tapers to small vigil candles and sets including a large celebrant candle and medium sized ones for ushers, we have everything you need for your candlelight Mass.
Depending on the size of your congregation, you can order bulk sets of 250 vigil candles. Many of our candles come with bobeches, keeping your congregation from getting wax dripped on them.
Long, Thin and Beautiful Beeswax and Stearine Tapers
Thin, elegant tapers are synonymous with Catholic Christmas and Easter vigil services. Burning clean and bright, all of our tapers will provide the soft glow your congregation expects at midnight Mass.
For a truly impressive service, use our giant 18" tapers, made from 51% beeswax!
Our tapers are available in both beeswax and Stearine, although not all sizes are offered in both waxes. Paper drip protectors are included in some sets. For those that aren't, plastic bobeches with handles, paper bobeches and wind protectors for vigil candles are available for sale separately and are made to fit all of the congregational tapers we sell.
Drip and Wind Protectors for Outdoor Easter Vigil Mass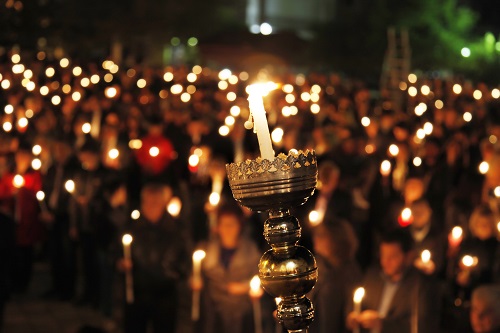 The Easter Vigil service is beautiful. Unfortunately, a windy evening can make lighting the candles outdoors a frustrating affair. Drip and wind protectors shield candles from the elements so they last throughout the service.
Shield vigil candles from sudden gusts with our wind protectors.
Available in clear or white "frost," these plastic, cup-shaped protectors sit high on the candle. Not only do they look great, your congregation and ushers will love not having to relight candles repeatedly. Best of all, they are reusable. You'll never have to worry about a windy Easter vigil again.