Subcategories
Shop Bliss Jewelry Online - Catholic & Religious Pendants & Medals
Bliss Jewelry is a way to outwardly express your Christian faith. Men, women, and children can all find something beautiful to wear. Jewelry pieces include images of Christ, saints, and other religious symbols. T.H. Stemper is an approved online retailer of Bliss items including: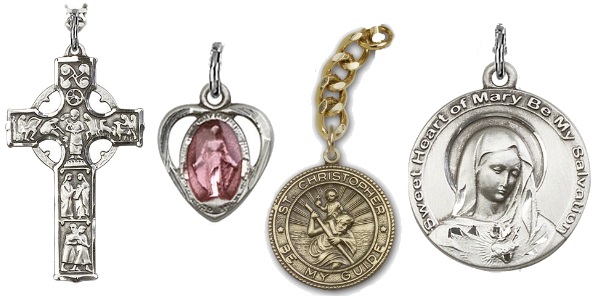 Bliss does more than just jewelry. They create:
These items are a beautiful addition to any Christian home or vehicle. The crib medals are great baptism gifts. And visor clips with St. Christopher are ideal for regular travelers or new drivers. Order your religious jewelry online now.
Jewelry is made from:
Sterling silver
Gold filled and gold plate
Silver filled and silver plate
Aluminum
Pewter
Brass
Bliss Patron Saint Medals for Sale
T. H. Stemper has an extensive selection Patron Saint medals and pendant jewelry by Bliss. Different saints represent professions, military branches, and hobbies. Use a Bliss pendant to call upon specific saints or blessed persons.
Shop religious Bliss Jewelry online or view our entire line of Christian jewelry.