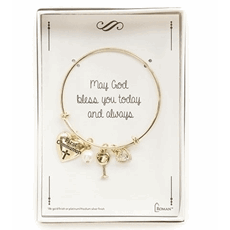 Shop First Communion Christian Jewelry Including Catholic Bracelets, Prayer Bracelets and Other Religious Bracelets for Sale Online
Religious jewelery is a fantastic gift for the Catholic Communicant in your life. T. H. Stemper offers a wide variety of stunningly beautiful Catholic and Christian jewelry, including prayer bracelets, Jesus fish bracelets, first communion bracelets, birthstone bracelets and other elegant Christian jewelry. Whether you want a delicate style or a chunky religious charm bracelet, we have an extensive selection to suit the unique style of your Communicant. Keep the Lord forever close with our first communion jewelry. Shop the very best in stylish Catholic and Christian accessories today and get the most incredible value on all our religious jewelry.
Buy First Communion Jewelry Bracelets Below or Shop Our Entire Line of Religious Jewelry.