Buy St. Christopher Medallions, Pendants, Keychains & Statues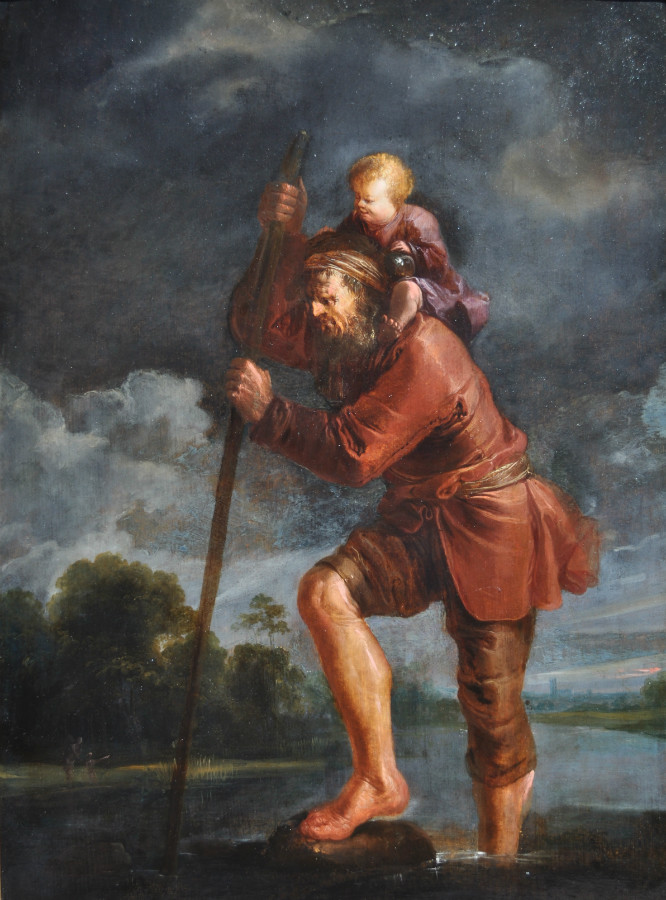 St. Christopher is the patron saint of travelers and children. The name Christopher means Christ-bearer or one who carries Christ. His story has been shared since before the 7th century. Patron Saint Christopher is famous for carrying a child across a mighty river. The child is later revealed to be Christ. Today, many people wear St. Christopher medallions to pay respect and for added protection.
A St. Christopher medal is worn in hopes for blessing during travels, as well as to protect people from epilepsy, lightning, storms, pestilence and floods. St. Christopher is also the unofficial patron saint of student sports. The medallion brings comfort and confidence to those who wear it, helping them feel protected from dangers. St. Christopher medals also serve as a daily reminder of the beauty and importance of having strong faith.
Shop Patron Saint Christopher Medals from Stempers
TH Stemper's carries a variety of Saint Christopher medallions, intended to bring comfort to you or loved ones. Our selection includes:
Colored St. Christopher medals
St. Christopher necklaces in gold and silver
St. Christopher keychains
St. Christopher sports necklaces for martial arts, basketball, volleyball, swimming, baseball, wrestling & more
St. Christopher military necklaces for the U.S. Army, Navy, National Guard, Coast Guard, Air Force & more
St. Christopher visor clips
Some widespread phrases for our St. Christopher medals include "Behold St. Christopher and go on your way in safety," "St. Christopher be my guide," and "St. Christopher pray for me." Shop our large selection of St. Christopher necklaces in sterling silver and a variety of colors.
Confirmation Gifts and First Communion Gifts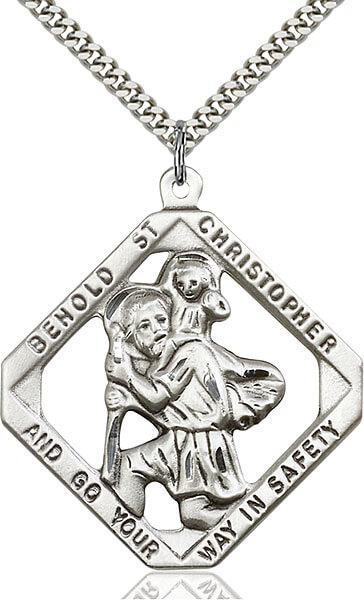 St. Christopher medallions make great religious gifts for:
…and all other sacraments. A child's St. Christopher necklace can stay with them for life to serve as a protector and reminder of the importance of faith. St. Christopher medallions are popular confirmation gifts, especially in Catholic traditions as young individuals choose a saint name.
T.H. Stemper Co. offers Confirmation name gifts for a wide array of other saints, including St. Aaron, St. Agnes, St. Benedict, St. Catherine, St. Dominic, St. Elizabeth, St. Nicholas, St. Peter, St. Valentine and more – shop all Catholic saint name gifts. Connecting with an individual saint can help deepen one's faith. Bring stronger faith into your life with T.H. Stemper's saint medallions.
T.H. Stemper Co. carries a variety of other religious gifts, including rosaries, books & bibles, jewelry and more.
Church Items for Sale
T.H. Stemper Co. has provided quality church supplies since 1911. We provide unexpected treasures in the form of used religious items. We offer chalices, candles, supplies for mass, books & liturgy, statuary and more. Our religious store has any used church items you could be looking for. If we don't have it in our store, we'll find it.